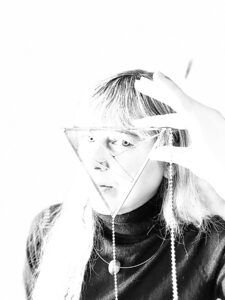 Marcia Bassett is a NYC-based musician, performer, and artist known for her innovative and unconventional approach to music. With a fascination for the intersection of contemporary digital technologies and analogue systems, Bassett constantly pushes the boundaries of sound and image, resulting in captivating and transformative sonic experiences.
Exploring the realms of sound collage, improvisation, and immersive audio-visual environments, Bassett's work delves into the cultural world and immediate surroundings, encountering various phenomena that have the potential to be transformative within ourselves and our environment. Her artistic vision is to create a heady sonic interplay of otherworldly narratives that blend elements of trance and critique.
As the founder of Yew Recordings, Heavy Conversation and Heavy Blossom and working with smaller independent labels, Bassett has maintained a DIY approach to music publishing. Some of her recent solo recordings include the critically acclaimed "Midnight Xpander LP," which was recorded at the renowned Elektronmusikstudion EMS in Stockholm. She also recently released the mesmerizing "Undulating Arkasboning" cassette on Artsy Records in 2022 and a Digi-EP titled "Altering The Form" on the esteemed Belgian label KRUT.
Bassett frequently collaborates with other artists on installations and multimedia projects. Notable recent works include "Triangulated Waves," an electric guitar and violin improvisation with Samara Lubelski for an abstract film showcased at Tabakalara in San Sebastián, Spain. She also has engaged in several sound and live visual collaborations with Ursula Scherrer, notably, "Interwoven" a site-specific installation, Tunis, TNSA, "Time_Untime" Roulette Intermedium, NYC, "FA\CE" a la Maison, Paris, FR and a multimedia installation featuring live visuals and sound with Ursula Scherrer and Sergej Vutuc at The Film Gallery in Paris, France. Furthermore, Bassett has captivated audiences with "The Eternal Now" Buchla Music Easel improvisations alongside Ted Gordon and colorslide stroboscopic light experiments by Jeffery Perkins. 
Other past collaborations and solo projects include work with Andrew Lafkas' large ensemble, Alternate Models, presenting "Two Paths with Active Shadows Under Three Moons and Surveillance" at Experimental Intermedia and Eyebeam in NYC; "Survival Of Laments" a live improvisation with Margarida Garcia and Manuel Mota at Festival Oude Muziek 2018, Utrecht. She showcased an improvised sound performance titled "Transitory Freezing of Perpetual Motion" with Jenny Graf and dancers at the Here-10 Evenings Festival in Sweden, created live improvised sound interaction with the performance artist Narcissister, and composed an original soundtrack for the Single Channel Video "Ten Ways of Doing Time," directed by James Fotopoulos and Laura Parnes in 2013.
Her boundary-pushing approach, penchant for collaboration, and relentless exploration of the sonic realm continue to inspire and shape the contemporary music landscape. She has been an integral part of several influential bands and pursued solo work under the moniker Zaimph. 
Bassett's involvement with the renowned band Un, formed in the early 1990s, showcased her distinctive approach to sound. Un, known for their hypnotic and dissonant soundscapes, released their self-titled album "Un" (1996) and tour-only 7" on the esteemed Siltbreeze label. Another notable collaboration for Bassett was with Double Leopards, an experimental collective that emerged in the late 1990s. With their improvisational and exploratory approach, Double Leopards created densely layered sonic tapestries that blurred the boundaries between noise, drone, and psychedelia. Bassett's involvement with the band resulted in a number of captivating releases, including "Halve Maen" (2003) and "A Hole Is True" (2004). Bassett's musical journey also led her to join forces with Pete Nolan and Steve Gunn, in the band GHQ. GHQ's music delves into folk-infused territories, blending intricate guitar work, ethereal vocal harmonies, and a penchant for improvisation. Their collaborative efforts produced mesmerizing albums such as "Cosmology of Eye" (2006) and "Crystal Healing" (2007). Furthermore, Bassett was a member of the ear-splitting noise duo Hototogisu, alongside Matthew Bower of the influential noise outfit Skullflower. Together, they created blistering and intense sonic landscapes that pushed the boundaries of noise music. In addition to her collaborations, Bassett has released solo material under the moniker Zaimph. As Zaimph, she explores the realms of ambient drone,noise and electro-acoustic experimentation. Her solo works often feature layers of ethereal vocals, guitar manipulations, and hypnotic textures, creating immersive sonic environments. Notable releases under the Zaimph moniker include "Sexual Inifity" (2006); "Between the Infinite and the Finite" (2016) and "Rhizomatic Gaze" (2018). Her contributions to these projects have left an indelible mark on the experimental music scene, showcased her versatility and mastery of various musical styles and mapped regions still only dimly understood by subsequent sonic travelers.