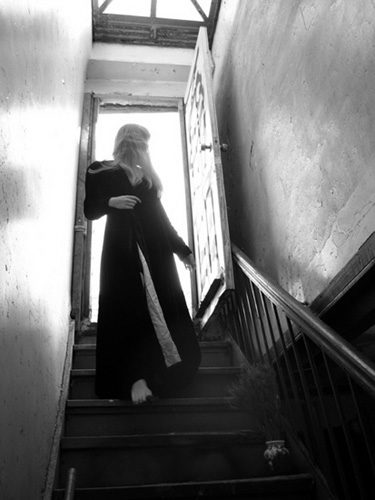 Artist/musician Marcia Bassett works in areas of sound, improvisation and visual creations. Bassett's work is equal parts trance and critique. Her sound pieces thread the needle between the conceptual and the sensual, between ritual invocation and cold semiotic gaze. Using handmade electronic instruments, prepared guitar, synthesizer, field recordings and tape explorations, Bassett deftly wields philosophical systems to produce heady, experiential clouds; pushing through drones into provocative soundscapes – the intangible narratives of dreams.
As an experimenter and improviser, she frequently joins others in collaborative installations and multimedia projects. Recent collaborative presentations include "Triangulated Waves" electric guitar and violin improvisations with Samara Lubelski for abstract film by Marcia Bassett at Tabakalara, San Sebastián, Spain; multimedia installation with live visuals/sound with Ursula Scherrer and Sergej Vutuc at The Film Gallery, Paris, FR; "Time_Untime" with Ursula Scherrer at Roulette Intermedia;  "Interwoven" a site-specific installation and performance in collaboration with Ursula Scherrer at Interference, Tunisia; OptoSonic Tea a site-specific group improvisation and OptoSonic Echoes an 8-channel continuous sound installation and at The Parrish Museum, Water Mill, NY;  "The Eternal Now" Buchla Music Easel improvisation with Ted Gordon and colorslide stroboscopic light experiments by Jeffrey Perkins at The Diffusion Festival, Baltimore. DC.; "Survival Of Laments" a live improvisation with Margarida Garcia and Manuel Mota at Festival Oude Muziek 2018, Utrecht.
Past collaborations and solo projects include work with Andrew Lafkas' large ensemble Alternate Models; the group presented "Two Paths with Active Shadows Under Three Moons and Surveillance," at Experimental Intermedia and Eyebeam, NYC; "Transitory Freezing of Perpetual Motion" improvised sound performance with Jenny Graf and dancers at Here-10 Evenings Festival, Sweden; "Field Recording with Zaïmph", BOMB magazine and "Out of Line: Narcissister" live improvised sound interaction with the performance, High Line, NYC.  Additionally, she created an original soundtrack for the 2013, Single Channel Video, "Ten Ways of Doing Time", written and directed by James Fotopoulos and Laura Parnes.