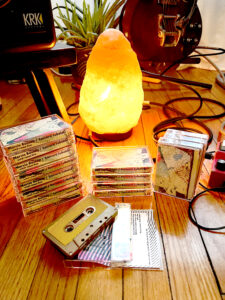 Marcia Bassett / Samara Lubelski West Coast LIVE cassette on Feeding Tube Records is out!
Marc Masters featured it in his column The Best Experimental Music on Bandcamp: November 2022 on Bandcamp!
Over the last decade, guitarist Marcia Bassett and violinist Samara Lubelski have been one of the most reliable experimental duos around. Through many releases and performances, the pair have consistently created dense improvisations, melding noise, drone, feedback, and volume into music that's sometimes harrowing, sometimes uplifting, and always stimulating. West Coast Live offers four recordings from a 2019 tour, and all of them are deep and resonant enough to get lost in. Best is "PDX," a 10-minute swath of vibrant sound in which Bassett and Lubelski merge into a single voice, one powerful enough to reach the stars but subtle enough to seep under your skin.
We'll be hitting the road for shows at Jerry's On Front in Philly on Dec 2 and the Catalytic Sound Festival at Rhizome DC on Dec 3! See ya there!